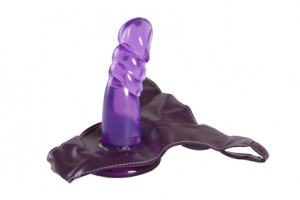 Finally, my journey brings me home again, and I can relax from the demands of life.  And nothing says home like making a feminized bitch get out my collection of cocks so that I could indulge in my favorite homecoming activity…sissy strapon sex.  Fucking some strumpet in her cunthole is a nice tension reliever.  Rather like Happy Hour, but without the hangover the next day.
I also enjoy the ritualistic preparation involved with sissy strapon sex.  Sure, I could…and sometimes do…just take what I want, and call it a day.  But I tend to get more gratification from drawing the anticipation out for several hours, until the sissy bitch in question shudders in delight from a caress to her neck.  I like watching the way that the pupils dilate,  jawline tightens a little with longing, and the nostrils flare slightly as my feminized fluffer tries valiantly to be a patient good girl who will eventually get the reward of my cock.
Good Things Come To Those That Wait for Sissy Strapon Sex…Maybe
As much as I truly enjoy reaming some harlot out, I also like denying them.  It's a great deal of fun to have a sissy on her knees, literally begging me to put my harness on, and to fuck any orifice of her needy body.  I like making them earn it.  After all, getting my cock is a privilege, and I don't think it's too much to ask that someone shows that they *really* want it.
And it's not about the physical act.  Not for me, not in the least.  It's the mind fuck of taking someone  like you and totally dominating you as you lay with your legs in the air, squirming, desperately hoping that I'll plunge into you, filling your  sissycunt, sissy mind, and sissy soul in a way that only a truly dominant woman can do.  It's thrusting into your psyche with every stroke, branding you, claiming you, owning you.
If you can intice me to do it, that is.  I might just have you get out my toys, then put them all away again, unused for the night.  It's on you to convince me that you want it.  You think you're up to the task?