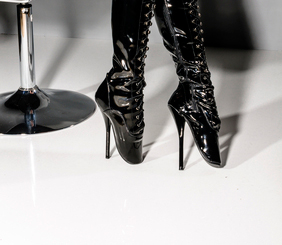 A sissy recently scheduled a session with me, and wanted to know if I would assist with her ballet boot training. Of course the answer was yes! I love pretty fetish gear, and ballet boots are the height of feminine grace.
Providing one doesn't topple over face first in them, that is!
The facts are that while a perfectly poised sissy in ballet boots serving ladies is indeed a sight to see, they are not shoes that you simply cram your foot into and go.  Safety in playtime is of utmost importance, and being fit is the first step in ballet boot training.  In this instance, fit does not exclusively mean weight.  It means increased muscle strength, and balance.
It is also necessary to be very honest about your own body.  How flexible are you?  How strong are your ankles?  What shape are your feet in?  Somethings are best left in fantasy, and for some of you, that is true of ballet boots.
Beginning Ballet Boot Training
Do not run our and buy the ballet boots of your fetish dreams.  While your mind may hold visions of you of prancing about in 8 inch stilettos while en pointe, the reality is that the boots of your dreams may simply not work for you.  Unless you are a sissy with a small foot, you are going to want to steer clear of popular brands on fetish sites.  You will also want to go with ankle boots.  Again, the brands found on popular, big-box Internet fetish stores will likely not accommodate your calves for a knee (or higher) boot.  When you are ready to make the investment, Punitive Shoes have a great reputation among fetishists.
However, it will be some time before you are actually a sissy in ballet boots.  This is not an endeavor for those without patience, or the ability to listen to instruction.  You will spend time preparing your body prior to ever slipping your foot into ballet boots.  Your posture and core strength are very important toward preventing injury. If you've read all this, and are still eager to learn how to, give me a ring, and we'll chat about it.  If it's one of those things that you enjoy thinking about, but really isn't for you, you can always vicariously enjoy what others are doing, and we'll enjoy the fantasy together without the pain.