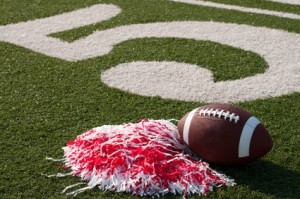 Though I appreciate the beauty of real women cheerleaders, they don't amuse me like when someone wants to be my sissy cheerleader.  That said, some sissy cheerleaders can be both beautiful and amusing.  The two things are not contradictory in all cases.  Perhaps they won't be in yours when you complete this assignment.
Sissy Cheerleaders in Service
I went to a small gathering for the AFC Championship game. As some of you know, I do not currently have a live-in sissy, though I have several that I toy with when the mood strikes me.  However, my dear friend in another state does.  She has 3 actually, and she was the one playing hostess to the gathering.  At first the sissies were demure.  They gathered everyone's coats, served food and drinks, and just generally saw to our comfort.  Which, by the way, is not bad work if you can get it.  I know sissies that would give their eye teeth to be in service to a handful of dominant, beautiful women.
Anyhow, this pattern continued for awhile.  With roughly 5 minutes left in the first half, the sissies asked for permission to be excused.  They needed to prepare themselves to entertain us for our own personal half time show.  Trust me, though I like Bruno Mars, you won't see anything like what I saw that afternoon during this year's Super Bowl show!  Their was much flouncing in pleated skirts, lots of pompom shaking, and something with a megaphone that left me wincing as I watched.  That was immediately proceeded by gales of laughter.
It's Your Turn Now
I know that some of you have been trying to reach me, and now that I'm back home for a bit, I'm ready for you to amuse me on cam. What better way for you to do so during this footballabulous time of the year than to dress up like a cheerleader and give me your best cheer?  I can't think of a better way, and as you should all know by now, what I think is what matters.  I want to see some ponytailed strumpets shaking their moneymakers for me in fine cheerleader style.
So try to catch me, or mail for an appointment, and do your duty.  Amuse me.