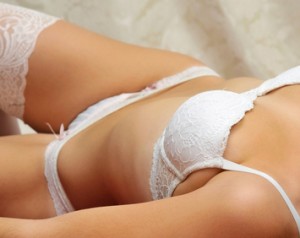 It is Friday night, and that means it is time to prepare me for a real man.  You didn't think I was going to stay home with you, did you silly sissy?  Not on your life!  Not when I can enjoy my stud *and* turn you into a sissy cuckold. It is double the pleasure and double the fun.  At least for me, and that's what matters!
First Steps in Preparing Me for a Real Man
The first thing you need to do is thank me for the honor of being allowed to prepare me for a real man.  You are very fortunate that I am giving you the opportunity to please me in a role befitting you.  Let's face it, there is only so much a sissy is good for, so you should take advantage of every single time you are afforded the privilege of pleasing me.
Next up is to slip into a bra and panty set that I will personally select for you.  It goes without saying that you should be smooth before you don any lingerie.  Though sending you for a waxing is a personal favorite, I'm not overly finicky when it comes to the "how" of your smoothness.  I just want it done.  So see to it.  And don't think that I won't notice the damp spot on the front of your panties, as I most assuredly will.   I'll call you out on it as well.  It gives me pleasure to point out how you are my emasculated bitch, and why it is necessary for you to prepare me for a real man.
Next Up – My Bath and Lingerie
Once you are properly attired, and I've inspected you, it will be time for you to see to my grooming…head to toe. I want you to drink in every inch of what you won't be getting tonight, and what a real man will.  Go ahead, sissy.  Feast your eyes on me.  Look at my body as it glistens in the bath water.  Towel dry me.  Rub body lotion over curves that are otherwise forbidden to you.  Then fetch the white bra, panties, and stockings that I've laid out.  As you go to get them, think about what it will look like when his hand jerks those panties downward.  Think about how the moans will sound as they pour out of my throat when he first slips his finger inside me.   Allow yourself to imagine the unimaginable, and think what it must feel like to be him, and have my pussy clench around his cock as it fills me.
Think about it, sissy.  And let that spot in your panties grow damper and damper.