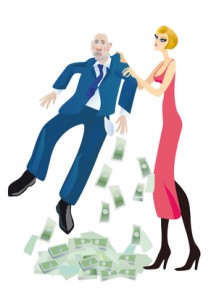 I have been very busy over the holiday season, enjoying not only friends and family, but sissy blackmail phone sex as well. Though I must admit, the "phone sex" part of that is a bit of a misnomer. There was a good deal of phone involved, but absolutely no sex. At least not for the sissy involved, that is.  As for me, well, I get what I want, pets, or I don't play.  Anyhow, back to my story…
Blackmailed Sissy
It all started with a Gold Star Student who had been given permission to call me during a brief lull in the holiday festivities.  This particular sissy is not one that wants to flaunt herself in public.  As a matter of fact, she has a fear of being outed.  You see, sissy has very, very much to lose, and doesn't want to give up half to the wife, should certain…disclosures…be made.  At least that's what he tells himself.  And he tries to tell me.
But I am an experienced black widow that has crawled into his mind, and I have known for some time that the notion of being outed turned him  on as much as it horrified him.  I'd been waiting for just the right opportunity to make use of that particular little tidbit of information.  As I knew would eventually happen, sissy fucked up, and left himself wide open for extortion from his Mistress.  I could have done it anytime, you see, but it was more fun for me to wait…savoring the moment when I would pounce.  Also, leaving him to believe that he had no one to blame but himself  for getting into a sissy blackmail predicament put an extra twinkle in my eye.
The Trap
Without going into lots of detail, let's just say that I gave sissy a task that I knew she would not be able to accomplish. The holidays are like that, you know. They take time away that you might otherwise have to call your own.   Due to that lack of private time, sissy's given mission was not carried out. So you can imagine how disheartened sissy was at the prospect of telling me about her failure.  In addition to that, she was *supposed* to be calling to report her success, and the timing of the call was my Christmas gift to her, as I was otherwise unavailable.
Sissy Blackmail Shake Down
When I heard sissy's trembling voice, admitting her inability to carry out a direct order, I knew the time was right to strike. So strike I did. I told sissy what a pathetic job she'd done of it, and how she was going to pay for not only failing to complete a task, but taking advantage of my good nature, my time, etc. In no time at all, sissy was a blubbering mess, and started making comments about how he was going to send a very nice tribute to compensate for his fuck up.  I laughed.  Seriously.  Don't make the mistake of thinking that you can bottom top me, sissies!
I told him that no, there was no compensation for his fuck up, and if there was, I would be the person to decide what it was.  I asked him what he had thought he was going to offer me.  He named an amount, and I simply told him "triple it.  Every week in 2014.  Bitch"
Other than faint sissy whimpering, there was dead silence on the line.  Sissy finally sputtered…"but…but…but…you can't be serious!".   I assured him that I was.  Then I told him that if he needed a display of my seriousness that I would be glad to put some of the videos that I have of him up on a Clips 4 Sale store.   Things fell silent again, then my lips curved into a smile as I heard a soft little moan that I've heard so many times before.  I knew then that sissy would pay every penny I told him to, and then some.  It's going to be a *great* 2014!