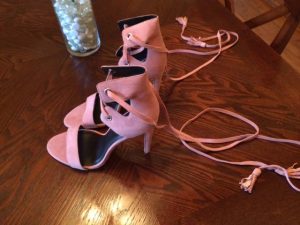 Aren't those adorable shoes? They belong to a feminized sissy that I play with.  For purposes of this post, we'll call her JA.
JA loves surrounding herself with things that emphasize her feminized faggotry.  Things like these pink high-heeled shoes.  She is a true sissygirl at heart when it comes to shopping, and she regularly sends me pictures of new acquisitions.
She and I have been in a relationship for roughly a year and a half.  It didn't start off as one, of course.  There was some getting-to-know time involved to see if we were a good match.  But before long, JA came to the realization that I was indeed the person to guide her on her feminization journey, and she began to relax into that safe, perfumed, pink place that I create for her.  She began to share more, and, at my urging, she began to peel back the layers of herself for my examination. It hasn't always been easy for her, but over time, JA has come to accept her destiny.  She knows that whether she is taking small, measured steps in these pink shoes and a tight skirt or whether she has on rugged boots that she is not a real man, and she never has been.  She is a self-proclaimed sissy fag, and at my direction, she has become more and more accepting of that truth. Instead of trying to hide from her destiny, she now embraces it.
JA has more than a few things that make her fluttery, and the lace ups of these shoes represent one of them.  But those same laces also represent the ties that bind her to me.  She has made great progress in our time together, and she no longer journeys alone. She knows that because of the relationship that has formed between us…because she is committed to submitting to me… her tie to me simultaneously binds her, grounds her, tethers her, leads her back home, and sets her free