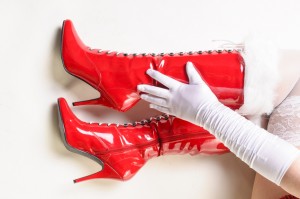 Since this will be the last time I post before Christmas, I thought it was time to check in and see who was on the list for naughty and nice feminization phone sex.  There are a few rare sissies that can be on both lists.  However, most of you will either need nice, soft, sensuous-yet-controlling feminization phone sex, or you will need naughty, strict, stern, and no fucking around feminization phone sex.
Luckily for all of you, no matter what your kink, Ms Isabelle and I have it covered.  We *are* your Christmas gifts.
Nice Feminization Phone Sex
All true gurls who love having a woman gently dominate them, or provide guidance on their transformation journeys will love sensual sissy phone sex at the Sissy Finishing School.  Ms. Isabelle and I are Natural Born Cock Teasers.  What that means, my little strumpets, is that we know how to croon and cajole and have you quivering in your lacy panties that are ever-so-damp in front.  We know how to make you beg for more, and how to become irresistible sirens that you need to return to time and time again.  You'll love the way that we wrap you around our well-manicured pinkies, and you'll find that you become very devoted to us and our pleasure.
Naughty Feminization Phone Sex
Naughty feminization phone sex junkies have a special place in my heart. It's not that I love you more than your sensual-loving counterparts. No, it's not that at all.  It's just that fucking with you gives me a different type of pleasure.  I love using your mind, body and soul as a canvas to paint my sadistic art on.  That sadism can take many forms, ranging from simple denial to smiling down at you while the heel of my red patent leather boots sinks into your pathetic sissy sack.  Ms Isabelle and I have shared more than a few of you, and that is also another thing that is fun…when you have not one, but two highly skilled, very wicked women in cahoots, tormenting you at will.
It puts a smile on my face just to think about it!
So whether you like your feminization phone sex to be naughty or nice, you've found what you are looking for.
Surrender to our power.