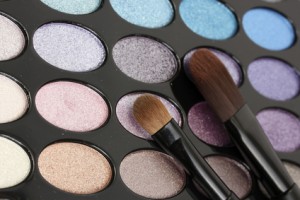 Some of the more popular feminization assignments at the Sissy Finishing School are those involving makeup tips.  You devour them like Godiva chocolates, all in your never ending quest to be as much like a real girl as possible.  To that end, today's feminization assignment should keep you busy until I'm taking calls again.  You can perfect the technique, then send me pictures or give me a cam show to demonstrate how hard you've tried, and how much you want to please me.
Slutty and Sophisticated Makeup for Sissies
The smokey eye is such a multi-purpose look that you simply must have it in your arsenal of tools. It allows you to not only look like a pure slut when so ordered, but does double duty and can be sophisticated as well.  And how do you go about creating this feminization masterpiece?  As with so many things in life, having the proper foundation is key, and we're going to start that off by using primer.  Too Faced Shadow Insurance is a good one.
You'll also need eyeliner.  If you are in the beginning stages of your feminization makeup exploration, I recommend pencil over liquid.  You'll make mistakes, and pencil is far easier to deal with.   It's also best for smudging, which is a key component to this look.  For the sillier sissies amongst us, you'll also need eye shadow.  Though many associate "smokey" with black, that need not be the case.  Your dark shade can be a jewel tone deep purple, forest green, or any color you want to experiment with.
You'll also need your mascara on hand, preferably a lash curler.  Having some Qtips is a good idea as well.  I strongly recommend using brushes instead of those hideous little sponge applicators that come with drugstore makeup.  If you are serious about your feminization makeup, you'll eventually want to invest in a set of quality brushes.  For now, make do with what you have.
Practice Makes Perfect
You may not get the look you are going for the first time or the thirtieth. What's important is that you remember that you are making me happy by trying. The smoeky look is a great one, because it is not precise. It combining and blending until you have careless elegance. Which is something that all feminized girls should strive for!
Watch this video, and practice.
When you have it right, it will be time to pick up the phone, and tell me your favorite part of the assignment. Aside from pleasing me, of course. That's a given.