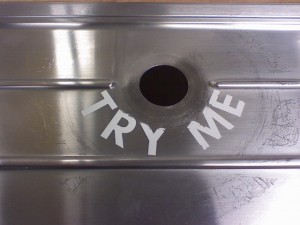 The weekend is upon us, and that means it's time to focus on your latest feminization assignment, namely reporting for glory hole duty.  You may *think* that the weekends are for leisure, and you'd be partially correct.  They are for my leisure.  But you will be busy on your knees, sucking unknown cock.
Your Feminization Assignments Are for My Pleasure
I don't give a flying fuck if you don't want to do it.  The sooner you wrap your ditzy sissy mind around the fact that my wishes are what matter, the better we'll get along.  No matter what you want, you will be behind that wall, waiting for an anonymous cock to poke through that hole.  I'll be on the phone, my voice singsonging into your ear, telling you that there is no backing out, that you are going to be a glory hole cock sucking bitch.
Your heart will beat loudly enough that you can feel it in your temples as you wait.  You'll be torn between being afraid that an erect fuckstick will point through at you, and being afraid that one won't.  Because you know that your mission is to seduce with your mouth, and be a knob polisher, so that I can enjoy my power over you.  I love knowing that you are so devoted to me that you'll follow through on all your feminization assignments, even the ones that you are afraid to do.
How Many Cocks Can You Suck?
The answer to that question is very simple…as many as you are told to suck. If I'm in a hurry, I may have you just give a couple of blowjobs while I listen.  If I'm relaxing for the day, I may see if you are a good enough pupil to break the glory hole queen record.  Whatever my mood, you'll go along with it.  Because deep in the pit of your belly, you know that you have longed for a woman that can take control of you, and that will force you to do things you'd never do on your own.
That woman is me.
So open up.  Better get your jaws stretched out and flexible.  Saturday could be a very long day for you.  Ring me, and find out how many cocks I want you to suck.